As we gear up to move my nesting has kicked in to OVERDRIVE! Or should I say OVERDESIGN! No… there is never "over designing" going on here. My little girlies will be sharing a room, and hopefully become the best of friends in the process..! Utilizing all of the furniture that we already have here are my design plans and the added elements to spruce it up!
Let me start to set the stage with the gold polka dot wall decals from Urban Walls. Being in an apartment and unable to paint the walls makes these wall decals the PERFECT solution! Be still my gold polka dotted heart!
My 8 month old sleeps in a crib and my 2 year old had been updated to a toddler bed. Although in anticipation for the next upgrade to a Twin bed, I am planning for the future with twin bedding in mind. Both the white crib and toddler bed were cheap finds. One was a craigslist buy and the other a hand-me-down from a friend. My personal note is not to spend an arm and a leg on furniture that you will be over and done with in a few short years. Part of me thinks a big investment on a crib is okay, because you can use it for future children. But then I stop and ask myself, would I really want a white crib for a boy baby too? My taste changes so often that I don't need to spend a fortune on stuff that I can find for a fraction of the cost at a consignment store! Plus it leaves extra money for the fun and frilly things that really make the room unique!
We have 2 white Ikea cube shelves that we have used for toy storage with wicker bins and a changing pad on top. It is the perfect storage solution and the perfect height for diaper changes! The last piece of furniture that will be in the room (not shown above) is an antique dresser with a tilt beveled mirror that my mom gave me. I painted it white of course, and am hoping to update the knobs to these elegant white owl ones from Anthropologie. (Here's to hoping they go on sale!!)
The biggest dilemma I had was on a rug. I know it isn't necessary with carpet, but it is one of those finishing touches that just can't be ignored. Plus the more cushion the better when you have a little dare devil that tries to walk at 8 months old. I was always thinking a big faux sheepskin, but then when I made my design board, I thought it needed one last splash of color. I decided on this red, pink and white color block rug from Ikea. It is a runner and will fit perfectly between the crib and toddler bed. Then of course I have to include the plush sheepskin throws too. They are only $10 at Ikea so I am sure I will find a fitting place for them in the space.
My other ode to owl's in the room is a white owl lamp found at Land Of Nod. I am hoping a few treasure hunts at thrift stores might land me something that I can DIY for a fraction of the cost. We will see.
I recently came across Ashley Goldburg Prints on etsy  and fell in love with this one because it reminds me of my toddler.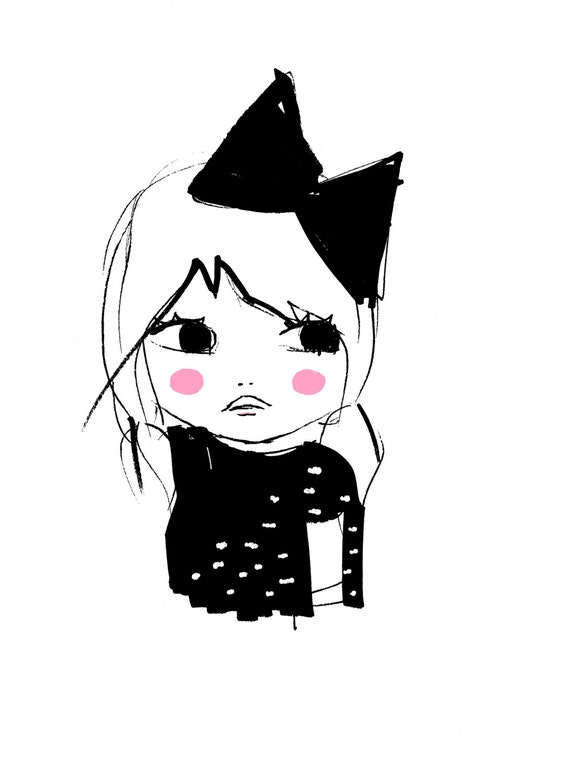 Then I found out that Land of Nod has this exact print on a pillow! Score! I cant play favorites and get just one pillow, so I am getting 2! Each with a different sketch of a cute little girl with wide eyes! ❤ While Searching the Nod website, I fell in love with the balloon quilt and striped sheets. Lucky me, I found similar stripe crib sheets on amazon. But, the balloon bedding will have to be one of my SPLURGE purchases down the road.
About a year ago I bought the tiered ruffle curtain off Amazon. I of course was inspired by a similar one at Urban Outfitters for 4x the price. It is just too easy to be thrifty! 😉
My last inspiration item is the tassel garland found in the etsy shop Studio Mucci. What a fun a frilly way to spice up the space for a couple of cute little girls!
That's all for now, I can't wait to show you the end result!
And check out my etsy shop: http://www.winkinkbooks.etsy.com